SEO Internship (Portuguese Language)
Tipas: Praktika Pobūdis: Terminuotas, Darbas iš namų, Papildomas darbas Vieta: Vilnius Atlyginimas: -
Search Engine Optimization Intern is wanted! We are looking for an Intern to be a part of our Marketing department. The Intern will work with our SEO manager and marketing team to help grow the number of satisfied customers and let them know what we fight for!
Main tasks to handle during the internship:
Keyword research and analysis
Competitive landscape overview
Copywriting and content optimization
The ideal intern will:
Have a native-level understanding of the Portuguese language
Have good written/verbal communication in English
Have an analytical mind with attention to detail
Be outgoing and confident
Be driven to succeed – to meet and exceed individual and team targets and goals
Have previous experience in copywriting and/or marketing
Skycop offers:
The opportunity to expand your horizons and gain experience in working with international business
Experience in promoting a useful and positive service
Flexible working hours
Great company culture: foosball, monthly company breakfast, team building sessions, and friendly people all around guaranteed!
This is an unpaid internship.
If you are selected, we will contact you via email or phone.
Join the mission!
Skycop is a global company, offering and supplying their services from a service centre in Vilnius. We are a unique organisation for your next career stop, with wide career opportunities and great success stories. Most have risen to high level managers from common positions. Join us and become an international team member – become a part of history.
IMPORTANT NOTICE: By applying for this role, the candidate agrees to the processing of his / her personal data in accordance with the Personal Data Protection Law, and to their storage by Skycop.com human resources employees. Personal data will not be communicated to third parties without the candidate's consent.
---
Panašūs skelbimai
Darbo tipas: Darbas
Galioja: 4 d.
Darbo tipas: Darbas
Galioja: 7 d.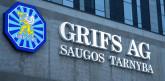 Darbo tipas: Darbas
Galioja: 16 d.